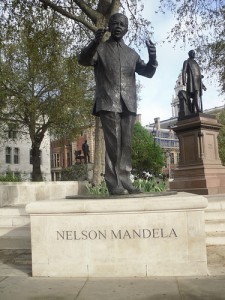 The Palm Beach Daily News interviewed prominent community members, including former Ambassador Earle Mack, about the recent death of South African leadership icon Nelson Mandela, a man credited with helping to end Apartheid and the first black man to be president of South Africa.  Several people the Daily News reporter spoke to actually had the opportunity to meet Mandela, while others had words of praise and respect for the deceased leader, who was 95 years old.
"He was a man of courage and integrity and high principal and stood and fought for what he believed," said Earle Mack of Mandela, "I think his passing leaves a great legacy for all. I think he's a true hero of the world. They come along once a century, people like Mandela."
Another former ambassador, Edward Elson, spoke of the South African delegates he worked with during the time the country was establishing diplomatic relations under Mandela.  He said he was impressed by the pragmatism found in former guerrilla fighters, and that Mandela chose his representatives well.