Thoroughbred industry's marquee event held in-person after COVID-19 remote year.
by Jay Hovdey
A broiling February day that sent locals running for shade turned into a balmy evening of international intrigue at the 51st Eclipse Awards Dinner, as champions representing Korea, England, Japan, Mexico, Dubai, and several points on the North American continent paraded on the tented stage at Santa Anita Park to an appreciative audience of more than 300 guests Feb. 10.
With temperatures in the Los Angeles area touching 90 degrees earlier in the day, dinner organizers pushed the ceremony and its TVG telecast back an hour to escape the harshest rays of a summer-like sun. It was just past 5:30 p.m. PT when co-hosts Acacia Courtney, Britney Eurton, Gabby Gaudet, and Michelle Yu took the stage to christen the festivities with the usual warning of brevity to winners and their acceptance speeches, welcoming everyone back to an in-person event after the 2020 awards were presented virtually due to COVID-19.
Ron Winchell is an old hand at keeping things tight, having stepped up to gather championship awards for the likes of Gun Runner   and Untapable  in recent years. To start things off, Echo Zulu , owned by Winchell Thoroughbreds and the L and N Racing of Lee Levinson, was a slam-dunk winner of the 2-year-old filly championship off her undefeated season of four wins, climaxed by the NetJets Breeders' Cup Juvenile Fillies (G1).
Winchell's homage to the training team of Steve Asmussen ended with a tribute to Echo Zulu herself, who will be one of eight champions slated for return to competition in 2022.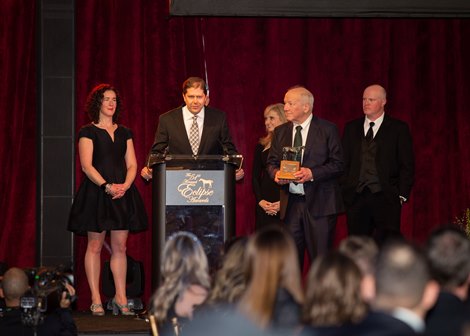 Then commenced a veritable United Nations of winners, beginning with champion older dirt female Letruska , who carried her form in Mexico to a 2021 season of six graded stakes victories at six different tracks. Her trainer, Fausto Gutierrez, was accompanied to the stage by his son, Andreas, age 14.
"Mexican racing will be very proud of this moment," Gutierrez said later in the evening. "Letruska was, of course, bred in Kentucky, but in Mexico she was a star before we came to the United States with her, so this is a very proud moment."
From Mexico the globe spun to the Middle East and the familiar Shadwell Farm brand of the late Hamdan bin Rashid Al Maktoum, whose legacy was carried in 2021 by 3-year-old filly champion Malathaat . Sheikh Hamdan's image was the first of the many displayed on several video screens during the traditional in memoriam portion of the program of notable racing personalities who died during the past year.
"It was a sad year," said Shadwell farm manager Greg Clarke, "but the filly was a breath of fresh air."
If Letruska set a precedent with her Mexican connections, female turf champion Loves Only You  blew the lid off Eclipse Award history by becoming the first American champion bred in Japan, trained in Japan, and owned by a large public partnership of rabid Japanese racing fans. Reprising his landmark appearance at Del Mar last fall, when Loves Only You won the Maker's Mark Breeders' Cup Filly & Mare Turf (G1T), trainer Yoshito Yahagi—the man in the snappy hat—took special pains to thank the champ's stablemate, Marche Lorraine , who won the Longines Breeders' Cup Distaff (G1) and was a finalist in Letruska's division.
Loves Only You, a daughter of Deep Impact, who retired earlier this month in Tokyo to great fanfare, was in the spotlight again as one of the stars of the NTRA's Moment of the Year (along with Marche Lorraine) for her Breeders' Cup victory. That gave Takahiro Uno of the Japan Racing Association's North American office a chance to remark in accepting the honor, "I've never been in front of a crowd this big before. The biggest was 10 people doing karaoke in Tokyo."
Justin Mustari was named champion horseplayer of 2021 and a group of media award winners were also recognized for their previously announced honors, including BloodHorse's own Eric Mitchell.
The Mean Queen was heavily favored to take steeplechase horse honors, even though there has been only one other mare in the history of the Eclipse Awards to do so. That did not keep trainer Keri Brion from being amazed it happened so fast.
"I remember standing here two years ago as an assistant for Jonathan Sheppard with Winston C," Brion said. "I was hoping it would happen for me some day, but I never thought it would be in my first year of training."
Although West Coast racing interests were sparsely represented among the finalists, they still had a pretty good night, commencing with the female sprinter award going to Ce Ce , winner of the Breeders' Cup Filly & Mare Sprint (G1).
"I want to thank all the people involved with Ce Ce," said Bo Hirsch, who bred his mare after four generations of stakes winners owned by the family. "They made me look like I know what the heck I'm doing.
"In fact, I want to thank this business," Hirsch added. "I love it, and I know there are a lot of people here who love it too. For my money it's the greatest sport in the world."
The reaction for Hirsch's cheerleading was generous, but nothing compared to the applause that filled the chalet tent for champion apprentice jockey Jessica Pyfer, who won her first race at Santa Anita late in 2020 and rolled to more than $2.8 million in mount earnings in 2021.
An emotional Pyfer, stepdaughter of trainer Phil D'Amato, began on a self-deprecating note, saying, "I'm so thankful I set law school aside," to pursue her dreams of being a jockey. A college grad, she went on to dedicate the award to her grandfather, Bob Alexander, who passed away in January.
"He was there for my first winner, and he was planning on being here tonight," Pyfer said later.
Joel Rosario had so many people to thank for his Hall of Fame trajectory career and his first Eclipse Award that he barely noticed the No Vacancy Band ushering him off. Later, he made a special effort to acknowledge trainer John Sadler for his early support on the Southern California circuit for giving him his earliest chances.
Male sprint champion Jackie's Warrior  was one of three Eclipse Award winners handled by Rosario during 2021. The 3-year-old colt was well represented by owner J. Kirk Robison and gave Asmussen his second champion of the season.
Neither trainer Bob Baffert nor jockey Mike Smith was on hand to see his unbeaten colt Corniche  win the award for champion 2-year-old male, but owners Peter Fluor and K.C. Weiner were on hand. Fluor exclaimed, "How sweet it is!' before recalling that the fathers of the two partners owned horses together decades ago.
There were technical glitches, of course, as happens with any temporary facility requiring a lot of audio and video elements. But nothing was quite as unfortunate as Eclipse Award of Merit winner Earle Mack being interrupted before he had finished his speech, or at least been gracefully escorted off stage.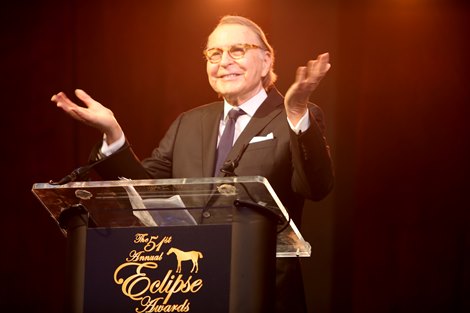 The expected onslaught of awards for Godolphin commenced with a sweep of the owner and breeder awards, and continued with Essential Quality   as champion 3-year-old male and Yibir  as champion male turf horse. Dan Pride and Michael Banahan of the Godolphin North American team shared acceptance honors.
Knicks Go  , as expected, raised the flag for South Korea and the Korea Racing Authority with the award for best male dirt horse after a campaign that included major victories from January to November.
"I am more nervous now than I was before watching Knicks Go run," said Jun Park, KRA racing manager.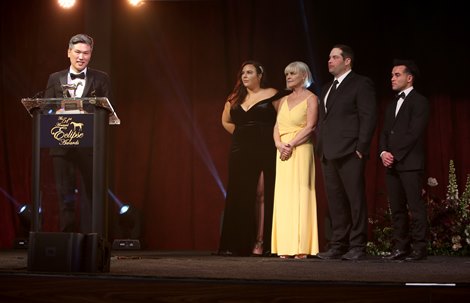 In the end, the individual connecting much of the evening's glory was Brad Cox, the trainer of both Knicks Go and Essential Quality, whose earnings record in 2021 went a long way toward his first Eclipse Award as champion trainer. Cox spent much of his allotted acceptance time—with the band poised to play him off as well—thanking his array of assistant trainers.
"This is definitely not an individual award," Cox insisted, then went on to name Ricky Giannini, Tessa Bisha, Dustin Dugas, Jorge Abrego, and Blake Cox, the trainer's 21-year-old son.
The evening concluded, as expected, with Knicks Go's being named 2021 Horse of the Year. As Jun Park rose to head for the stage, Cox sat quietly at his table, admiring the scene, until he felt a gentle push from his wife, Livia Frazar, to "get on up there." The trainer did as he was told.
"He works so hard, and this horse meant so much to us," Frazar said as her husband joined Park on stage. "He deserves to be standing up there."