Opening ceremonies at Saratoga Race Course are continuing throughout the month.  Thriving after 150 years, Earle Mack is happy to be a part of the New York Racing Association board that governs such a prestigious track.  The long history and prominence did not stop visitors from letting loose and having fun, though.  Here is the first prize winner of the annual hat contest at the race course: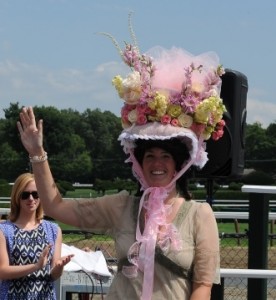 Photo courtesy of NYRA
Saratoga Race Course attracts veteran race goers who appreciate the track for its historical preservation and reputation for attracting some of the best horses.  Recent increases in purse sizes from state slot machines have also helped make the races more exciting.
The festivities will continue through Labor Day.  The meet will host 40 races this year.